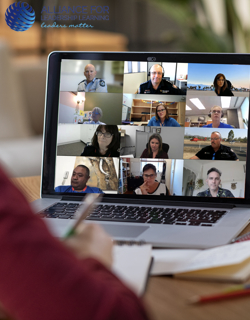 The need for leadership development has never been more urgent. Executives realise that to survive in today's volatile, uncertain, complex, and ambiguous environment, they need leadership skills and organisational capabilities different from those that helped them succeed in the past.
Building on our twelve years of leadership development innovation, the Executive Challenge Academy has released its program offerings for 2021-22. Adapting with the times, our new offerings blend personalised learning, social learning and contextual learning into an outcomes-based program rich in content and relevance to you and your organisation.
The Executive and Emerging Leader programs will run from July 2021 to May 2022 and our programs continue to be recognised for postgraduate qualification through Registered Training Organisations.
What's more, we have been able to offer these programs for lower fees than in the past!
Below are our program brochures for upcoming leadership development programs:
| | | |
| --- | --- | --- |
| Program | Target Audience | Brochure Link |
| ECA Executive Leaders Program commencing July 2021: | CEOs & Executives who have a strategic, sector-wide or systems change focus. Offered in SE Qld & Nth Qld | ECA Executive Program Brochure |
| ECA Emerging Leaders Program commencing July 2021: | Middle and senior managers from South East Queenslandwho are engaged with strategic or public leadership | ECA Emerging Leaders Program Brochure |
| ECA Regional Emerging Leaders Program commencing July 2021: | Middle and senior managers from North Queensland who are engaged with strategic or public leadership | ECA Regional Emerging Leaders Program Brochure |
| ECA Foundations for Leadership Program June & September intakes 2021: | People from organisations or community groups who lead others | ECA Foundations for Leaders Program Brochure |
Hurry enrolments close 30 June 2021